WonderCon creeps ever closer.  Everyday more information and news surfaces on all the fun things that WonderCon will have in store.  This week we have information on the return of the Comic Creator Connection, a CW series appearance, news that will make fans of Star Trek: Deep Space Nine happy, and more artist and writer confirmations.
Oh yeah, and Marvel will be there, too.
Here's what you may have missed: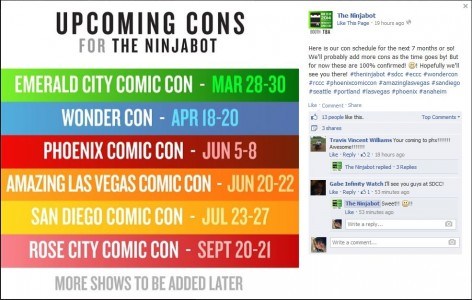 #WonderCon Anaheim 2014 April 18th – 20th – We will be at booth #1209 http://t.co/MWavjZfy0L

— Museum of Robots (@MuseumofRobots) February 28, 2014
Added appearances for @ChaseMasterson at @WonderCon & @fedcon! Visit http://t.co/bwUBEESMn8 #StarTrek

— SciFiActorApps (@SciFiActorApps) March 3, 2014
New happenings soon. New prints, comics & hopefully Hangwire preview comic for @WonderCon #StudioTime

— RNA Brandtm (@rnabrand) March 6, 2014
The cast of #StarCrossed will be out in full force at WonderCon in Anaheim on Friday April 18th! Get your tickets now and SEE YOU THERE!

— Meredith Averill (@mereschmere) March 6, 2014
I just agreed to join the @AntidoteTrust panel at Wondercon 2014, 6:30-7:30PM on Friday, April 18. http://t.co/BOWaMIflJO

— hannibaltabu (@hannibaltabu) March 6, 2014
Lastly, we had previously reported via Marvel's Agent M, Ryan Penagos, that the company would again be passing on a WonderCon presence this year. In a surprise change, David Glanzer, Director of Marketing and Public Relations for CCI, dropped by today's installment of Nerdist News to deliver news that Marvel would indeed be at WonderCon. Check out the video below, at the one minute thirty-five second mark:
No other details about Marvel's presence were made available, but we'll update you as soon as we receive more information.
Is there something we missed?  Let us know in the comments.